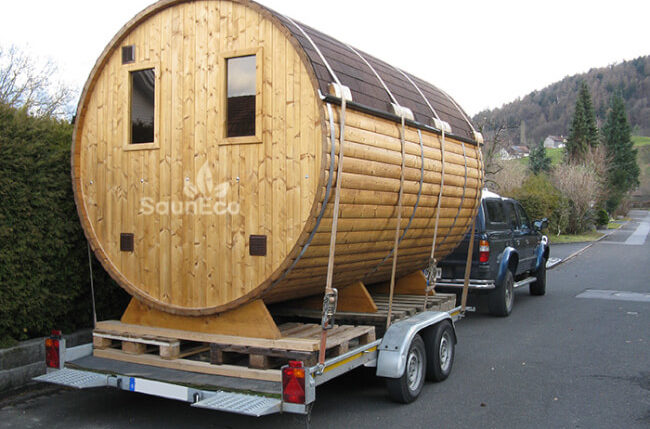 Index:
---
I. Pick-up
You be able to organize your goods picked up from our warehouse or have your own carrier company pick-up the goods on your behalf. Our customers are welcome to pick-up their ordered goods at our warehouse in Baden-Württemberg, where you can convince yourself of the quality, compare the different sizes, get all the answers and even "test" the sauna.
For the pick-up you need a trailer or truck depending on the size of the sauna and straps to secure the load. We will prepare and load the goods for you free of charge.
Important:
The trailer must be a suitable size and type for the barrel sauna you purchase
Pay attention to the maximum allowable weight – the wooden barrel saunas weigh about 1322-6613 lbs (600 to 3000 kg)
You need at least 3 straps to safely secure the load
Pay attention to towing capacity and gross weight – special driver's license is required
II. Delivery
If you choose this delivery method we will order third party freight company to deliver your order. Freight companies usually provide curbside delivery only and your order will be sent to the address given by you in your order.
With this delivery option we are not able to guarantee an exact delivery date and time. Deliveries are made on working days only (Monday to Friday) and experience has shown that delivery is normally within 5 – 10 working days from the time of shipment.
The delivery location should be easily accessible for a large delivery vehichle. The goods are typically delivered with a big truck and without unloading.
By agreement we can organize everything for you from start to finish.
Important:
Clarify any open questions with us
The delivery location should be easily accessible for a large delivery vehichle.
Curbside delivery service provides delivery to the curb at the end of your driveway without unloading
If you are not around to take delivery of your order you may request delivery notification for an additional charge. You will be notified in advance by phone to agree on the time of delivery.
Be sure to check the quantity and quality of the goods upon arrival before signing the transport documents for receipt of the goods. Transport companies may not accept later complaints.
If any component is missing or damaged, please contact us immediately
By agreement we can organize everything for you from start to finish.
III. Sauneco Transport
We deliver the goods personally + one-hour advisory session. This delivery method is the most flexible.
Choosing our service, the goods will be delivered by our team at the exact date you need or whenever it is suitable time for you, including early mornings, late nights and weekends. Our price includes tips for using the barrel sauna and a 1 hour consultation and instructions along with answers to all of your questions.
Our portable barrel saunas will be delivered with trailer and the price does not include the unloading. It is necessary to organize a forklift, tractor, crane or some other machine to unload the barrel sauna. For an additional charge we can organize the unloading and/or assembly for you.
Important:
Prior clarification of all technical questions regarding unloading is a precondition
For an additional charge we can organize the unloading and/or assembly for you.
The goods can be delivered even under difficult transport conditions
The barrel sauna will be delivered with a trailer
Flexible delivery options
Advice and instructions given by our staff
IV. Video: How to take delivery of your barrel sauna