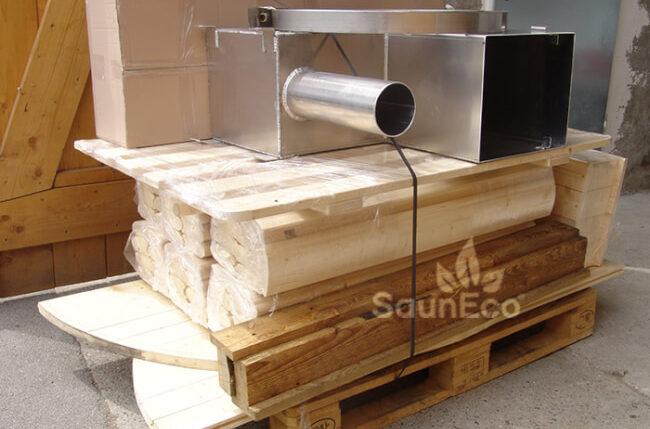 Round Wooden Hot Tub Help – Unassembled Hot Tub
1. What is an assembly set?
An assembly set is the material for a Hot Tub but not assembled yet and comprises of all parts and components needed for a complete Hot Tub. The quantity of parts depends on the Hot Tub's model.
2. For how long can I store the assembly set?
The shorter the better. Spruce wood can be stored longer than larch wood. Wood is a living material and when the staves stand around for a longer time period then they can warp and the problem then is that the Hot Tub cannot become consistently dense anymore as it should be.
3. When is it useful to purchase an assembly set?
When it is impossible for you to transport the Hot Tub e.g:

Doors / gate too narrow
Driveway approach too narrow
Place of delivery hard to reach or somewhere in the mountains
Walls or other barriers

4. Which Hot Tub Assembly Sets are available?
Spruce Hot Tubs K17S are on stock. Other Hot Tub Assembly Sets only available after order placing.
5. Is an Assembly Set cheaper?
Hot Tubs are manufactured, assembled and checked on our shop floor. When a Hot Tub is ordered, then we will dismantel the Hot Tub again. Therefore, the prices between finished goods and assembly sets are the same.
6. Is a manual included?
A manual or video is included in the delivery.
7. Guarantee/warranty also for assembly sets?
Yes, guarantee/warrantee is valid for manufacturing faults and that of the material. Transportation damages are also included in the warrantee frame. Damages during self-mounting are not included in the warrantee/guarantee frame.
8. How are assembly sets delivered?
An assembly set is delivered on a pallet. 

Round Wooden Hot Tub Help – Unassembled Hot Tub

9. How much space do I need to assemble the Hot Tub?
Depending on the size, 9.8×13.12 ft (3×4 m) on an even and firm ground. It is important that you can work safely. A Hot Tub has to be assembled upside down. Therefore, there must be enough space to turn the whole Hot Tub around.
10. Can I purchase an assembly set and also order an assembly service?
We do not offer an assembly service on site.
11. Can I order the inner plastic tub as an assembly set?
Unfortunately, no due to technical reasons. The transportation of individiual inner plastic tubs is impossible because they will be damaged afterwards without the chance of repairing them.
12. How long does the assemble take?
The assembly process takes around 4-6 hours. The larger the Hot Tub the longer the assembly process. Lay people must reckon a longer time period.
13. Our Recommendation
Purchase an assembly set only in case that there is now other way to transport a complete assembled Hot Tub. Trust in our professional staff who has the know how for this.