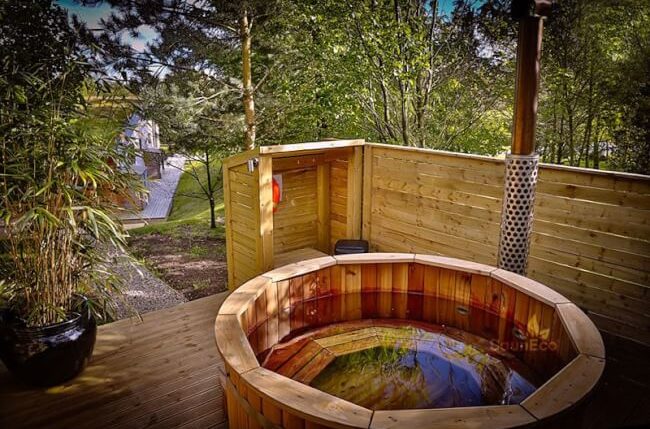 Jump right to our product reviews:
---
HOT TUB REVIEWS

Wooden Hot Tub
Woodfired Sauna and hot tubs in Cauldon, United Kingdom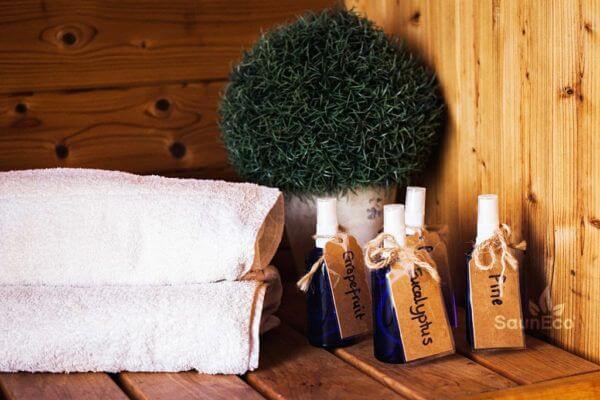 We ordered a wood fired sauna for our luxury campsite and have been extremely impressed with both the service and the quality of the building. Lehar has been on hand to answer questions and we must compliment him on his very efficient and caring customer service.
The sauna arrived virtually ready to use, apart from fitting the log burner and both ourselves and guests have been very impressed with it overall.
Catherine Webster at Secret Cloud House Holidays
www.secretcloudhouseholidays.co.uk
---
Bathing barrel with bubble jet system and LED (Granada, Spain )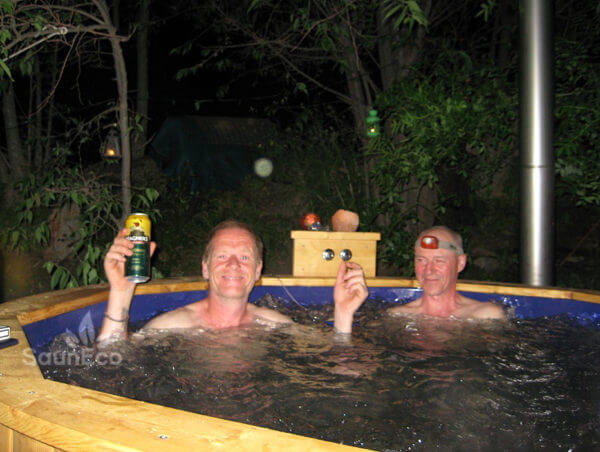 It is a high quality hot tub and is brilliant, especially sitting at night time watching the stars, i,d like to thank you again for probably the best service i ever had when buying the hot tub.
Many thanks, Billy.
Billy Mclean
Granada, Spain
---
200cm wood fired tub with external heater in Montenegro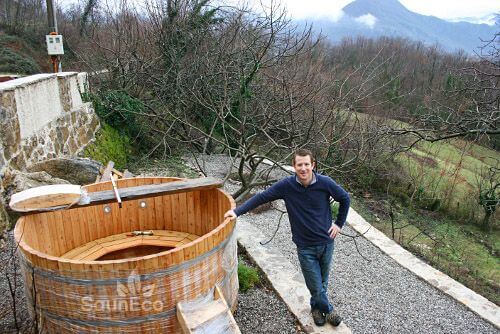 The www.sauneco.co.uk team were a dream to deal with from start to finish. Patient and knowledgeable, the service was first class from enquiry through to collection. I cannot recommend them highly enough – and their products are not just beautiful, but also excellent value.
Best wishes
Ben Heywood
Undiscovered Montenegro
---
Hot tub larch Ø 1,7m with internal stove (Tuscany, Italy )
We love our new hot tub. Purchase and delivery were excellent, very prompt with no problems. The last couple of km to our house are 'off-road', so the 'barrel' construction was much easier to manage without machinery…..a few volunteers from our neighbours were all that we needed.
We have lots of wood, but electricity is expensive, so a wood fired tub is a great option.The internal heater is amazing, heats the 1.7m diameter tub from cold (very cold…our spring water is always at 10C ) in about 90 minutes….the first time we actually underestimated the heater and the water was too hot!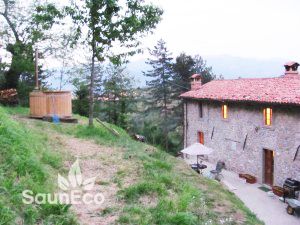 We use the tub at any time of the day, but our favourite is at night when we can lay back and watch the stars…in silence. No noisy pumps in our tub, just the sound of owls and deer in the forest around our house.
Regards,
Steve
Tuscany,
Italy
---
200cm diameter hot tub in Northumberland
We were very impressed with Sauneco's before, during and after-sales service, and the communication was excellent. The quality of the hot tub is most excellent, and it does fit as perfectly into our prepared space as we could have hoped.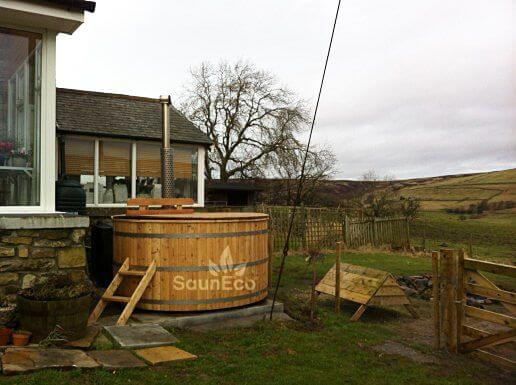 We'd heartily recommend this company to anyone who is interested in hot tubs, specifically on the basis of quality and service.
Many thanks
Larry Winger
Northumberland
United Kingdom
---
Wood fired hot tub spruce Ø 1,7m with internal stove (Alvor, Portugal)
Dear Sirs,
I am writing to thank you, and your Company, very much indeed for the excellent service I received from you, before and after purchasing one of your wooden Hot Tubs – 1.7meter spruce with internal furnace.
Initially, I had a few questions, which were all answered very quickly, the same day, and to my complete satisfaction.. I could tell how efficient your Company was, which gave me complete confidence in placing an order with you, even with a fairly large amount of money involved. You were kind enough, also to allow me to pay an initial 10% deposit, with the balance payable on delivery..I also needed the Hot Tub delivered to Portugal, which I discovered would be no problem, even though the overall distance was many hundreds of kilometers..
I was pleasantly surprised and happy to receive my Hot Tub in less than 2 weeks from the order date, which I thought was very fast indeed, and I need to compliment you on this, in particular.. The Hot Tub, with all the extras, which I had ordered, arrived safely and in good condition, even though it was a very large item, and very heavy.. Your staff had done a very good job of packing everything carefully and safely.. well done, again..
Lastly, I must also compliment you on the quality of the wood used for the hot tub, and it's overall construction.. The joins in the timbers are beautifully put together, almost a work of art… superb craftsmanship – well done to the 'joiners' too..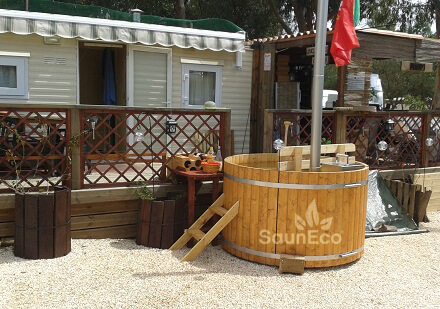 I would have no hesitation in recommending your Company to anybody interested in purchasing a top quality Hot Tub.
Thanking you all for a brilliant service.. I have no doubt at all that your Company will go from strength to strength.. I wish you well.
Best regards,
Tom Valender,
Alvor, Portugal
---
Barrel Saunas and Hot Tubs at Brompton Lakes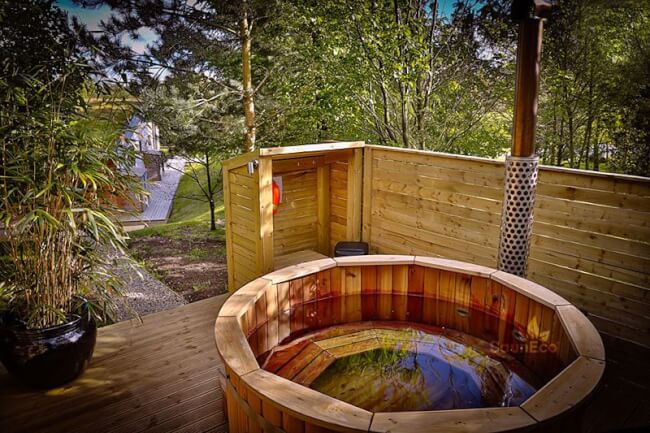 Roy Stephenson
Brompton Lakes
Easby
Richmond
DL10 7EJ
Tel: 01748 850333
Email: roy@bromptonlakes.co.uk
www.bromptonlakes.co.uk
---
Hot tub from spruce with internal furnace in France
The quest love the hottub and so is everybody who passing by the chalet 🙂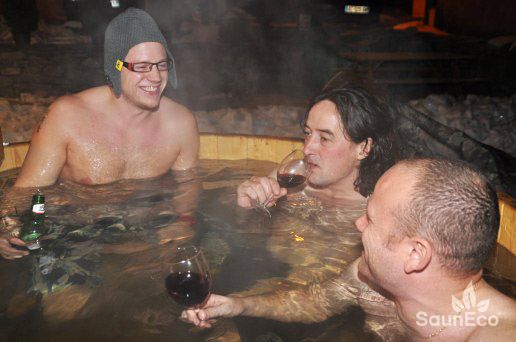 Snowy greetings,
Jolanda Brouwer
Chamonix, Rhone-Alpes, France
---
1,7 Meter Hot Tub in South Wales
From start to finish the customer service received from Saneco has been excellent. They dealt with all our questions and removed any concerns about importing to South Wales. The hot tub is great quality and a lot of care has been taken in design, manufacture and assembly.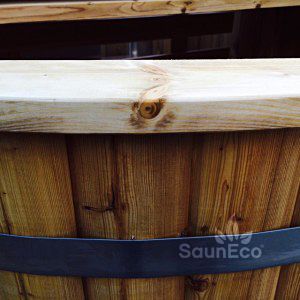 We feel that we have value for our money and are very happy to recommend Sauneco to our friends.
Chris & Sarah Cowbridge, South Wales
---
Wood fired hot tub spruce Ø 1,7m with internal stove (France )
My hot tub is fab, it heats up really quickly and does just what you said it would. It is very good quality and the manufacturing standard is very high, as for customer service Lehar has been a star answering all my question promptly can't thank you and your team enough.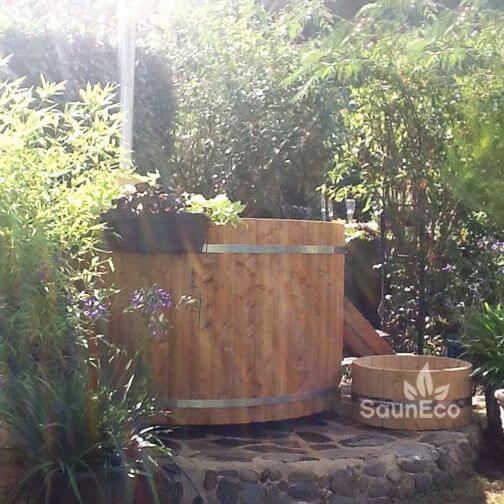 Carol Brooks
France
---
Hot tub larch Ø 1,7m with internal stove (Albareto, Italy )
The hot tub is here, I've just finished to check all the components and everything is OK. First of all I'd like to thank you and Saneco for the professionalism, support and a great, quick service.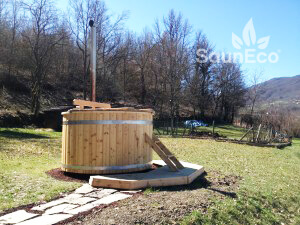 Stefano Toscani
Albareto (PR)
Italia
---
WOODEN BARREL SAUNA REVIEWS
Wooden barrel sauna with terrace, wood-fired sauna stove and accessories (Shinfield, UK )
We are very pleased with our new barrel sauna. We have tucked it away into a small unused area of our garden, it looks amazing and makes use of the space.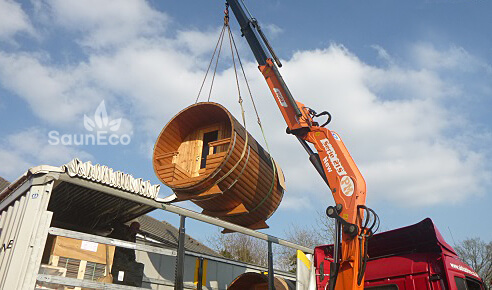 The sauna itself is very spacious inside. We have not used a wood burning sauna before and were surprised how few logs it needs to heat up and it remains hot for a long time. The unloading was expertly handled by a local HIAB company and the driver was very interested in having a sauna himself! Would thoroughly recommend having one.
Chris & Carol Taylor
Shinfield, UK
---
Bambino sauna and wooden hot tub in Newcastleton
Thank you so much. The sauna works wonderfully, we are very pleased.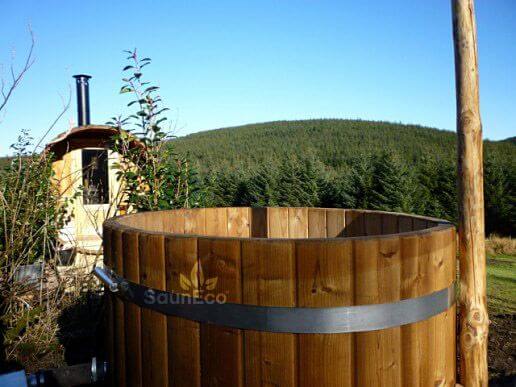 All the best
Christa and Del Dobson
Newcastleton
---
Barrel Saunas and Hot Tubs at Brompton Lakes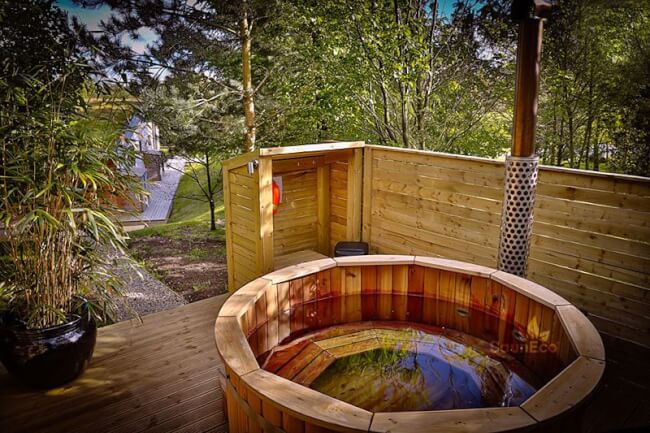 Roy Stephenson
Brompton Lakes
Easby
Richmond
DL10 7EJ
Tel: 01748 850333
Email: roy@bromptonlakes.co.uk
www.bromptonlakes.co.uk
---
Barrel sauna with terrace, two rooms and electric heater (Annecy, France )
Amazing, and so simple to move. I was so nervous when I saw the size of the lorry. Looking super.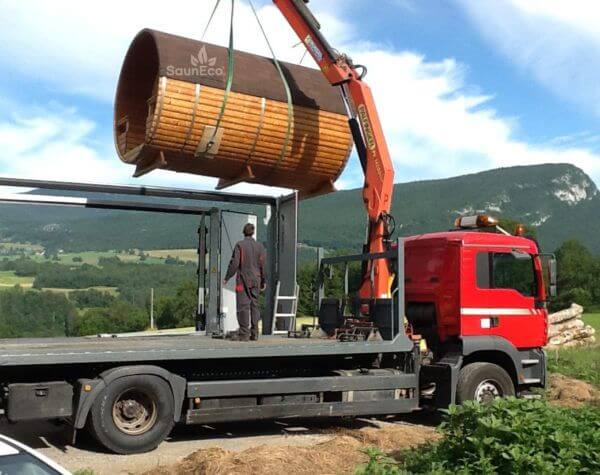 Many thanks,
Simon Cain
Savoia
France
---
Beechenhill Sauna
The Sauna has fitted in our garden so beautifully and our holiday guests and family are enjoying it very much- actually I think we are getting addicted! We were very impressed by the responsiveness of your company, being able to make a sauna to our specifications and deliver it to the Peak District in England so quickly.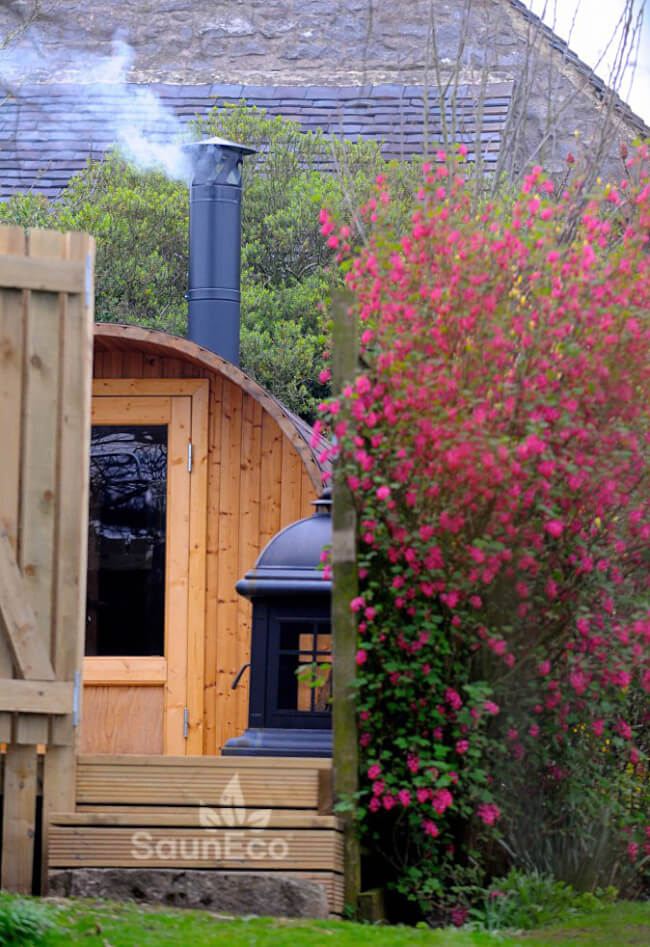 When it arrived we were delighted to see such a high quality product, with such good attention to detail, it appears so well designed that it will last a very long time. The accessories were much appreciated too, especially the towels, bucket and birch branches. Thank you again, it's been a pleasure doing business with you.
Best wishes
Sue Prince
Beechenhill Farm Ilam Ashbourne Derbyshire DE6 2BD UK
tel:+44 (0) 1335 310 274 | info@Beechenhill.co.uk | www.beechenhill.co.uk
Winner Visit England Gold Award 2013 For sustainable tourism
Winner Green Hotelier 2013
---
Sauna in Hoe Grange Holidays, Derbyshire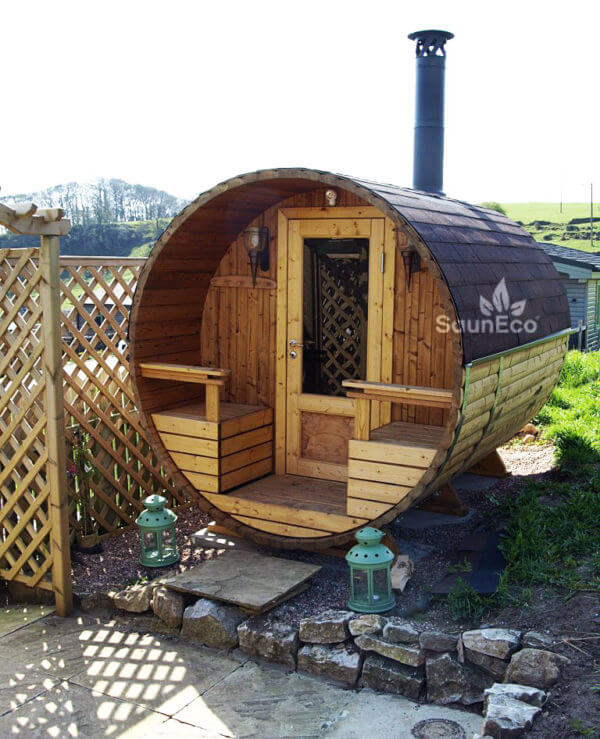 Our guests at Hoe Grange Holidays absolutely love our Sauna. It's so quick and easy to heat up. A real attraction for our customers, Delivery was so easy and on time. And installation took less than a day.
Thanks Lehar
David & Felicity Brown
Hoe Grange Holidays
Brassington
Matlock
Derbyshire
DE4 4HP
T: 01629 540262
E: info@hoegrangeholidays.co.uk
---
GRILLHOUSE AND GARDENHOUSE REVIEWS
Grillhouse for 8-10 people (Alicante, Spain )
I am very happy with the product, it looks fantastic. Thanks for all your help. BBQ hut renamed Hobbit House. Hope you enjoy viewing them as much as I enjoyed doing it. Kind regards Lynn.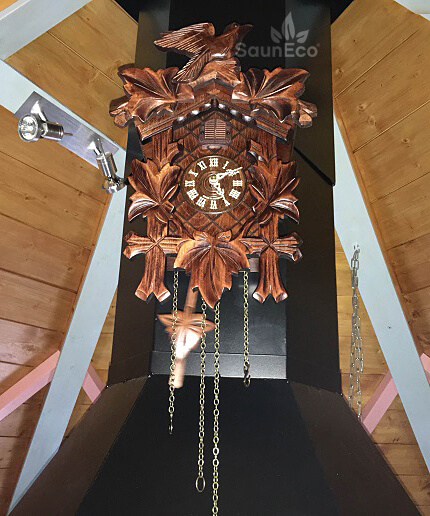 Lynn Lannin
Alicante, Spain
---
HEATERS AND STOVES
Log Burning Swimming Pool Heater in Canterbury, Kent
Thanks for the heater.
Here is the heater itself, plumbed into the pool via the plant room in the pool building behind. This is a bit technical but people might like to see how it connects into the pool plumbing. I did it myself and it was fairly straightforward even though I am not that practical. I added a new loop into the heater circuit. You can see two T's in the centre of the frame with a double union ball valve between them. The pipe work runs along the wall outside and is insulated by 25mm industrial exterior insulation.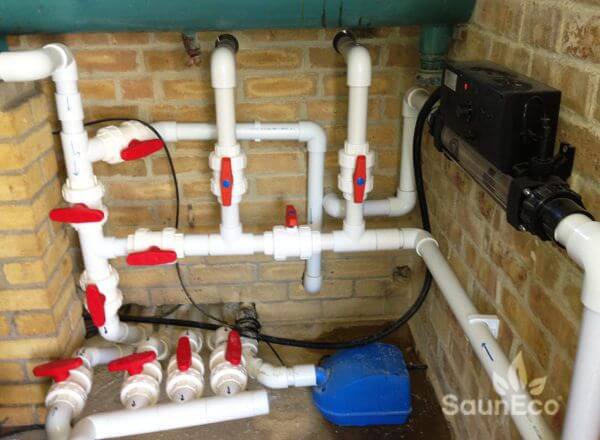 Thank you very much. A number of people have been very impressed with the burner and I have recommended you to them.
John Selwood
The Larches
Littlebourne Road
Canterbury
Kent CT3 4AFot Tub
Swimming pool heater 95 kW (61350, France)
I'm pleased to inform you that I've just returned from France and successfully plumbed in the pool heater and also commissioned it.
The boiler was fantastic.
I adjusted the flow rate to 1500 litres per hour and it raised the temperature of 10,000 gallons from 12.5 to 27 degrees with about 12 hours of slow burning wood. (5 x 50 cm long logs at a time….30 in all). It then only needed a small topping up every other day to keep it's temperature. I kept the boiler temperature 40 -50 degrees and the pressure minimal (open vented system).
The condensation was minimal on startup and perfectly acceptable as was the small amount of smoking.
The boiler is sited 4 metres from the pool in a separate room.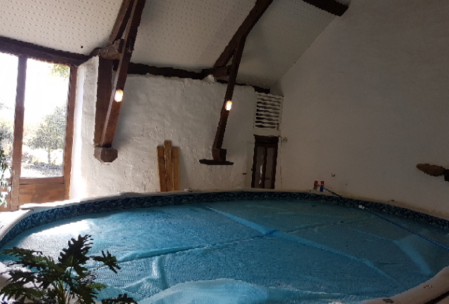 Chris White
61350, France
ot Tub
---
External Wood Burning Hot Tub Stove (40kW)
I've received the stove and its working well. We have had a very relaxing bank holiday weekend here.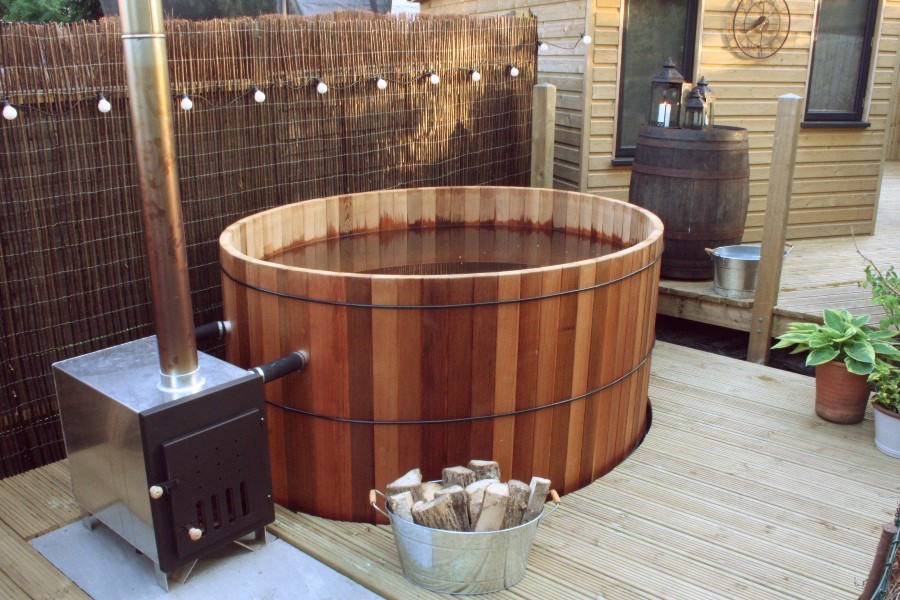 Thanks for your help.
Andrew Lloyd
Birmingham, UK