The quality of firewood is based on a number of factors including burn time, heat emitted, curing time and tendency to produce sparks. These factors are influenced by the cell structure of the wood, its water content and the presence of other materials in the wood.
Like Ash and Oak, Birch also belongs to the hardwood family although its burning characteristics are somewhat different; it burns quickly, has a good heat production and smells and looks attractive.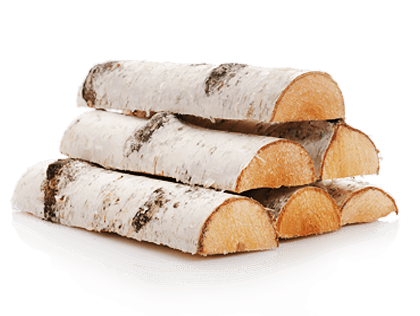 Birch is a hardwood with a high calorific value which grows abundantly throughout much of Northern Europe. In Scandinavia Birch is a popular choice for use in wood burning stoves. It burns hot, evenly, quietly and does not spit. Birch firewood has a good burning value which is about 1950 kWh/rm.
The best value for money is always guaranteed with birch or hardwoods in general. The price of firewood is cheaper than natural gas or heating oil. Our birch logs are ideal for wood burners and open fires.