Thermally Modified Wood
Thermo-processed wood is produced by treating softwood timber in kilns at very high temperatures which alters the cellular structures of the timber. As a result that makes the timber far more stable, especially so in changing climates.
What is kilning?
The process of kilning the timber is environmentally friendly. Thermo-processed wood is made through a chemical-free process using heat vapour and steam. The wood material is heated to a temperature of at least 180 degrees Celsius while it is protected with steam.
Pluses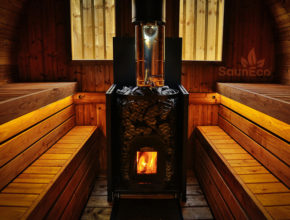 1. As a result of the thermo process the form stability of normal softwoods such as pine and spruce can be significantly improved.
2. Thermal processing completely eliminates resin.
3. Thermal processing increases durability of wood and increases immunity against impact of environment. For example, thermally processed wood according to its durability characteristics can be compared to oak.
4. Thermo-processed wood is darker than natural wood, more weatherproof and more resistant to rot.
5. Its insulation qualities are better, it suffers from less moisture deformation and is more stable.
6. The equilibrium moisture is up to 50% less than natural wood, which makes thermo-processed wood a better option for use in outdoor conditions.